Another story of faith inspires me to move ahead for I know God has requested this trip to be done by us. We have moved ahead in faith and God is opening the way for us.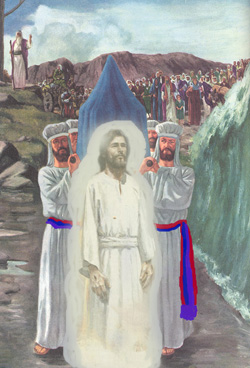 The priests obeyed the commands of their leader and went before the people, carrying the ark of the covenant. The Hebrew hosts took up the line of march and followed this symbol of the divine presence. The wide column filed down the bank of Jordan, and, as the feet of the priests were dipped in the brim of the river, the water was cut off from above, and the volume below rolled on, leaving the bed of the stream dry. The priests passed on, bearing the ark of God, and Israel followed in the rear. Halfway over Jordan the priests were commanded to stand still in the channel of the river till all the Hebrew host had crossed over. This was to impress upon their minds more forcibly the fact that the power which stayed the waters of Jordan was the same that enabled their fathers to cross the Red Sea forty years before.
But before the priests had come up out of the river, that this wonderful miracle might never be forgotten, the Lord bade Joshua select men of note from each tribe to take up stones from the spot in the river bed where the priests had stood, and bear them upon their shoulders to Gilgal, and there erect a monument in remembrance of the fact that God had caused Israel to pass over Jordan upon dry land. This would be a continual reminder of the miracle that the Lord had wrought for them.
We keep record on this web site and in our journals so that all may remember how God has worked mightily.