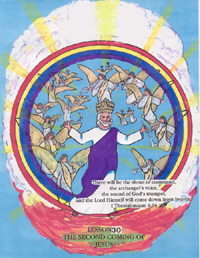 The first text that came to mind was this one about the resurrection:
I Thes.4:15 For this we say unto you by the word of the Lord, that we which are alive [and] remain unto the coming of the Lord shall not prevent them which are asleep.
4:16 For the Lord himself shall descend from heaven with a shout, with the voice of the archangel, and with the trump of God: and the dead in Christ shall rise first:
4:17 Then we which are alive [and] remain shall be caught up together with them in the clouds, to meet the Lord in the air: and so shall we ever be with the Lord.
4:18 Wherefore comfort one another with these words.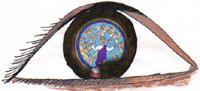 Every eye will see Him come. Their father would be raised to see this event.
Rev. 1:7 Behold, he cometh with clouds; and every eye shall see him, and they [also] which pierced him: and all kindreds of the earth shall wail because of him. Even so, Amen.
I spoke of the glories day when Jesus would come.
Revelation 21:4 And God shall wipe away all tears from their eyes; and there shall be no more death, neither sorrow, nor crying, neither shall there be any more pain: for the former things are passed away.
I did not pray for the dead person because

the Bible says they do not know anything. All is completed. Their choices have been made. The next thing they will know is when Jesus wakens them at the resurrection. I pray only for those who are living.

Ecclesiastes 9:5 For the living know that they shall die: but the dead know not any thing, neither have they any more a reward; for the memory of them is forgotten.
9:6 Also their love, and their hatred, and their envy, is now perished; neither have they any more a portion for ever in any [thing] that is done under the sun.