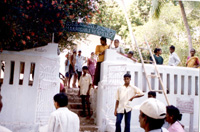 After we cooled off, we saw a few patients that came to be treated. We had clinic on the steps of this hermitage. One man had an injured toe that had a fungal infection. I provided charcoal to soak it. He sat there with his foot in charcoal water while I treated others.
The little girl on the right stood watching it all. She was so pretty. We wondered why she never smiled.
Another little girl was swollen around her eyes. She had stomach pain and nausea. Other symptoms led me to believe she had a urinary tract infection. I gave her Jenny's antibiotics. This was probably the easiest clinic day and the most fun with the long boat ride.