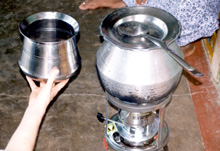 Phil. 4:19 My God shall supply all your needs. God always provided food for us. There were times we felt hungry for familiar foods or did not get enough because it was flavored with hot spices. We always had something to eat. We praise God for He always provided for us. Many times teenagers are hungry 4 times a day no matter what country we are in. It seems during growth spurts, you can never fill them up. India with its food so different from ours was no exception. Of all the countries we have been in so far, it was the most difficult to find foods we could eat without extreme pain. We were however, thrilled with the new fruits we had never before seen or tasted.
This is a typical kettle we were loaned to cook our stew in.
As always, we packed foods the children were familiar with into pockets and every suitcase bag. Six cases of granola bars of various flavors were stuffed into the children's belongings. Then granola was made by a friend. Also powdered rice milk was taken. Mixes of gluten and patties and waffles I had prepared so we could just add water and cook. There just is not time to conduct medical clinics all day, and preach for hours at night and still do cooking for a crew of children. It would have been nice to have a hard working dedicated cook along. There was also lintels, split peas, and dried vegetable soups crammed into the luggage. Peanut butter was another item we took. With teenage boys and growing children I hoped that if we were neglected by our Indian friends for a day or two, we could survive on the items we stuffed into our bags.
We were provided this little kerosene burner in Tenali and sat outside to do our cooking up of stew. It tasted so good. We enjoyed the pineapples, papayas, mangos and bananas we were given by the pastor. He also fried up potatoes.