One night after walking in the dark through sandy areas that scorpions inhabit, I thought about the dangers in the dark. Every time I put my shoes on in the dark, I thought about the possible scorpions sleeping in my shoes. The Bible promise was brought to my mind.
Luke 10:19 Behold, I give unto you power to tread on serpents and scorpions, and over all the power of the enemy: and nothing shall by any means hurt you.
10:20 Notwithstanding in this rejoice not, that the spirits are subject unto you; but rather rejoice, because your names are written in heaven.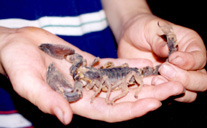 The next morning as we went the same path, we found this scorpion that had just been killed. Our open sandals would not have been any protection from it's powerful sting. God protected us time and time again. Many times we did not even know when we were in danger.