Instantly as I saw the older woman's eyes and heard her utterances I knew I was battling Satan. I cried out to God in heaven to do battle with His adversary. I kept praying. My eyes were closed till she was jerking so violently on me. Then I saw the ever watchful pastor and all his helpers rally about me. They were all praying out loud. They all recognized the battle and came to help pray. I continued praying out loud in the name of Jesus asking Him to cast out the demons. Finally after several minutes she sank quietly and peacefully into a chair brought for her. She a peaceful joy on her face and when I saw her again in clinic she had the same look of peace.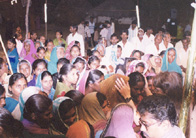 I love these Indian people. They are really precious. Whenever there was danger to me, they all worked to protect me. I was encouraged to see them unite their prayers with mine for the casting out of these demons.
Jesus says that where two or three are gathered together in His name He is in their midst.
Praise God.
Mark 16:17 And these signs shall follow them that believe; In my name shall they cast out devils; ...
It is not my power or might but the power of our amazing God who has done these things.
Mathew 18:19 Again I say unto you, That if two of you shall agree on earth as touching any thing that they shall ask, it shall be done for them of my Father which is in heaven.
18:20 For where two or three are gathered together in my name, there am I in the midst of them.