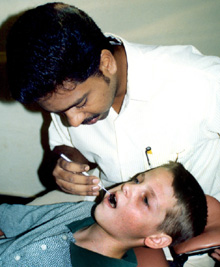 What a happy surprise we had a couple weeks later when we were at Neena's orphanage. We discovered the meetings planned for Chennai were cancelled and we did have time to go to Dr. Melvin's place in Nuzvid to the Seventh Day Adventist hospital for 5 days.
Dr. Melvin and his parents made us so comfortable and fed us well. Their hospitality was such a blessing. We discovered he had spent time in southern California on La Sierra campus. No wonder we understood his English easily.
These stories of Nuzvid will be under separate story headings.