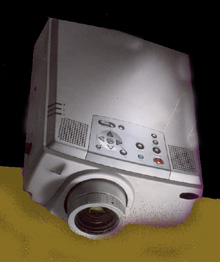 The next challenge came when the projector was knocked off the table and landed in the dirt lens first. This was a fall of about 4 feet. I saw it happen and immediately started praying. The bulb alone in that machine is very expensive and I had not been able to bring along a spare bulb. The projector was a miracle and had been dedicated to God when it was purchased. Our prayer group had gathered about it, placed hands on it and asked God to care for it and help it work well. We had saved and gone without for over a year to purchase it. Some had given towards it. It cost more than a good used car.
When we turned it back on, the projector worked just fine. God had performed a miracle again.
Next the power went off during real hot weather and the bulb cooling fans were not there. The manual says the fans must always cool the bulb or it will break. Again we prayed while we waited in the dark for the power to return. God always took real good care of HIS projector. It served us fine showing thousands the Mathew word for word account of the life of Jesus.