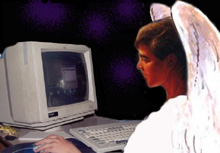 It was in February that one brother was praying to be strengthened in his work when he received an email prompting him to look at this very web site: illustratedbible.com. He did not know the person who sent the email. He does not have time or money to sit at the computer hunting through thousands of web sites. It seemed so impossible that he would find our site and ponder over it. We like to think that it was an angel who sent the email. Someday when I get to heaven, I will ask the angels who did the email that day.
After he prayed and thought about it all day, he returned to the email center a good distance from his home to request that gospel meetings be done in the villages where they had been working. I went to my knees before God in prayer for several days till God made it obvious it was HIS plan for me to take my nurse and children to Tenali.
We believe it was God's planning to have us work together in the Tenali surrounding villages. God called many thousands to the meetings to hear the gospel. Many thousands have had seeds planted in their hearts.