Materials for children and Teen Bible studies.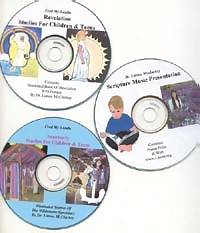 7 Different CD's are available at present: These are the same as are on the web sites yet have more animations, video clips, and quizzes.
1. Revelation studies for children and youth. This is a chapter by chapter approach with illustrations.
2. Daniel studies for children and youth. Each chapter comes alive with these colorful illustrations.
3. Basic Bible Lessons 1-40 complete with nature stories and quizzes and health talks.
4. Scripture Music Presentations. A perfect way to learn the 3 angel's messages
5. Sanctuary Lessons.
6. 85 True Stories of Answered prayer
7. 80 more true stories of Answered Prayer in the year 2002.
Projects for the future: 1. DVD programs to use for children during adult Bible lessons
2. Heaven's Declare
New as of November 22, 2001. There are CDS available that you can get for use on your computer. These are similar to the web site yet with more pictures, quizzes, and animation which there was not room on the web to include. These are great for use in home for family Bible study time.
These can be used for church Bible study groups. By using a graphics projector, we project these up on the screen and the children watch and read along with the teacher. If no projector is available, a group of 25 or so can still see it all on a computer screen.
Home Schools will like these prepared lessons with historical facts, documentations, and real photographs of items discussed. The art work has been done by our own home schooled children and their teacher.
Look on this page for more materials as time passes.
Include 3 dollars for shipping in USA, and 5 dollars for outside the USA.