All proceeds from CD sales go to providing more Bible lessons for the children of the world.
CD's available for children and teens: Scripture Music Presentation, Revelation Studies, Sanctuary studies, Basic Bible with nature and health talks included, Daniel Studies, The art of Forgiving, Grief Recovery and more.
Write for CD purchase in Web format : biblelessons@starband.net
Feed My Lambs is a self supporting family project that has reached to the children of the world since 1992. We are in full support of the Seventh Day Adventist Church. Dr. Larose McCluskey is a Family Practice Doctor that is home schooling and has stayed at home after 5 years of private practice, to train her four children since Sept. of 1994.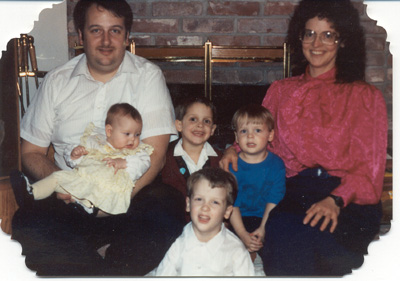 Our Family 1992
Through a series of heavy losses, our family has come to value heaven more highly than ever before. The Bible is treasured even more than ever. The book of Daniel has very special secrets for our time. It is packed with stories that develop faith. This book is fun for all ages.
Daily our prayer is: "Even so come, Lord Jesus."