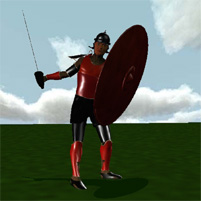 This section of stories deals with questions of how a Christian can live life to its fullest. The Bible refers to getting on the armor of God. The shield is faith. To increase faith, we must obey what God says, sit at the feet of Jesus studying His life every day and pray. Our hearts will be so filled with His treasures that we will want to share with everyone the blessings we learn from Jesus.
Ephesians 6:10 Finally, my brethren, be strong in the Lord, and in the power of his might.
6:11 Put on the whole armour of God, that ye may be able to stand against the wiles of the devil.
6:12 For we wrestle not against flesh and blood, but against principalities, against powers, against the rulers of the darkness of this world, against spiritual wickedness in high [places].
6:13 Wherefore take unto you the whole armour of God, that ye may be able to withstand in the evil day, and having done all, to stand.
6:14 Stand therefore, having your loins girt about with truth, and having on the breastplate of righteousness;
6:15 And your feet shod with the preparation of the gospel of peace;
6:16 Above all, taking the shield of faith, wherewith ye shall be able to quench all the fiery darts of the wicked.
6:17 And take the helmet of salvation, and the sword of the Spirit, which is the word of God:
6:18 Praying always with all prayer and supplication in the Spirit, and watching thereunto with all perseverance and supplication for all saints;
The following Christians standards help our shield of faith to be strong if obeyed. If we lower our standards in the named areas, there will be a shrinking of our shield. The fiery darts of Satan are hate, discouragement, and temptations. To have a nice big shield we need to pray often, read our Bibles, believe Jesus, and sing God's praises, and share what we learn.