Hypnotism is not the Bible way to bring people into a relationship with Jesus.
O Timothy, keep that which is committed to thy trust, avoiding profane and vain babblings, and oppositions of science falsely so called. 1 Tim. 6:20.Cut away from yourselves everything that savors of hypnotism, the science by which satanic agencies work. FLB320
Simple electroencephalogram (EEG) signals have been used for years by medical personnel to determine the general health of the human brain. But developers are now expanding the detection and processing of these brain signals to produce commercial devices that control real-world objects. Users can play music, move computer screen cursors, interact with games, turn on appliances, and even guide wheelchairs - all by controlling their brain-wave patterns.
Traditional EEG signals consist of complex waveforms that are divided into specific frequency bands. Look at the delta band for example, the delta band extends from near 0 to about 4 Hz. Theta runs from 4 to 8 Hz, alpha from 8 to 13 Hz, and beta from 13 to about 32 Hz. These bands are associated with different aspects of human behavior.
There are types of conservative music which cause beta waves to be stimulated in the brain. One is still in full control of his mental capabilities during this state. EEG signals have been studied with different types of music played for the one being tested. The results have led people to design certain music to get people to buy products.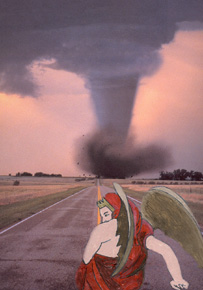 In the web sites designed to help people gain a hypnotic state, there are directions for using a type of music which creates alpha waves frequencies. It is common knowledge that these pulsating beats create an environment where the brain does not resist hypnosis. When the brain is finally hypnotized, the suggestive thoughts of others can control your mental processes. Satan was the master choir director in heaven and knows how to control through music. Lyrics are used which suggest the joy you can have while breaking the 10 commandments in adultery and stealing etc. Music can also induce tranquility and relaxation - especially if helped
by
a rhythmical pulse in the alpha-frequency.
While promoting the hypnotic inducing music, one web site made this statement: "The trance-creating capability of pulsing beats have always been used in tribal rituals and spiritual meditations."