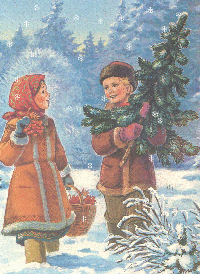 Traditions give us security. They bring back memories of fun family times. We all need to know that we are loved.
Sometimes the relatives get together and share their special foods. The cousins can play together and everyone can forget their struggles of daily living for a short time.
A time of special giving encourages everyone to be more unselfish.
Some even put up a nice sweet smelling tree in their church and decorate it with money for Jesus. Some put gifts for needy families under a tree at church and then take the gifts to these families.