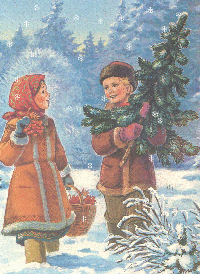 Where did people get the idea of using a tree at Christmas?
There are so many ideas about the answer to this. I have noticed in many countries, they have some festival that has a tree. In our area of the world, everyone uses a nice smelling fir, pine, or spruce tree. These are carefully grown and trimmed over several years so there are many branches to use in decorating.
In Mexico in 1976 we did not see the lights and trees decorated like we now see in 2000. The influence of television and businesses advertising have spread this custom into many cultures. This picture is from a card I received from a dear young person who came to our Bible lesson meetings in Russia.
I love getting cards. If you want to send me one from your area of the world, I would love to include it on this web site. I have just gotten my first card for the season. I am putting it up on my front door for all of us to enjoy.
Send me your unique card from your area or a hand made one. I will show it on this site:
Dr. Rose
POB 351
Cheney, Washington 99007