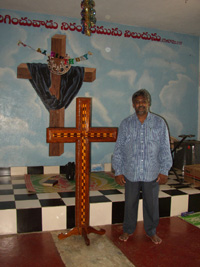 Sunday Service
Sunday April 20 and 21,2003
Pentecostal Church service surprise

Jenny and I were watching all the unique things being done for Sunday services. There was a spot under the pulpit that many were bringing food gifts to and setting them there neatly packaged. I asked what it was and learned it was "tithe" food. The people coming in the door would climb over all the others sitting cross legged on the mat and go up front with a package of bananas or rice or something. It was their offering and tithe food.
Jenny told the story of Esther for the children's class. They loved the pictures. She did a great job.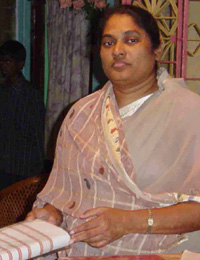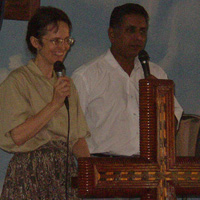 Suddenly during all the singing and clapping, I was asked by the Pastor Fís wife if I would speak. This sweet lady had such a beautiful singing voice. We had her teach us a song in Telegu. She watched me every morning at the feet of Jesus as she could see me from the window into the kitchen. They had remarked that Kyle and Jenny were such kind godly children and had Godís Spirit in them. They wanted us to share in their church. Thankfully, I had gathered rich treasures during my early morning time alone with God. After sending up a quick prayer for the Holy Spirit's help, I was ready to share. Afterwards we were asked to sing the new song we had learned in Telegu. Then others spoke and the service went on for hours. Then Jenny and I sang in English. We sang Psalms 23.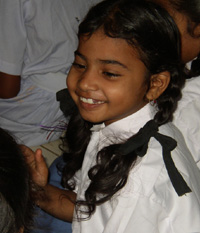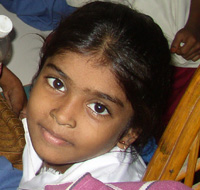 Cute little kids clustered about us and tickled our toes through the church service. Their gentle touching of our feet for a half hour of the church service made us think of how God says our feet are beautiful. They donít look pretty to us. They get so dirty in sandals as we walk on dusty streets and have to go bare foot in homes. These little children chose to show their love giving us foot massages. Their cute grins and giggles were a treasured memory. We did not leave that place needing to shake the dust off our feet. In fact, it seemed we left part of our hearts there.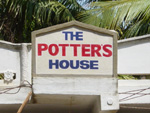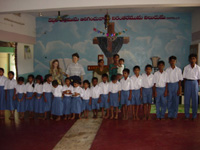 We enjoyed a visit to the "Potter's House" where they have a school for orphans and poor children. They feed many people at their mission. This school is expanding. They have quite an outreach program here. There is such a need for training little children. They retain their studies and Bible lessons and then take this light to others. If the Lord impresses you to help in this ministry contact Dr. Rose at tetracha@aol.com and she will help these love gifts reach the children's training center.
We left on the evening train for Tenali. Our host Pastor urged us to return on May 12 after his series of meetings he is doing. We have been doing street meetings and were having encouraging results. Pastor and his wife want to return to China for a month doing some Bible work. They tell me their plane ticket cost is all they have to come up with for there are brothers who will pay all the inside China expenses. I was amazed that their tickets are $550 round trip.

The train trek lasted 4 hours. We were all much worn out as we arrived at brother M.ís home. The few medicine and equipment bags were a very stressful thing for us trying to get it all off in time before the train moved on. Our skin color makes us stared at and the nervous strain from that alone makes it difficult to relax. People stand in your way and don't move unless you speak in their language. If you touch and urge them aside they still don't move out of the isle. We imagined a 3 minute stop without being all able to get off. What if the train should take one of the children on to the next stop? What would happen to them? How would they ever find their way back? These thoughts troubled my mother heart. I knew I needed to trust Jesus.
I wish I could say that I am always relaxed and at perfect peace but I am constantly praying for this. The day after we move to another place, we always feel so exhausted we just want to sleep. God is our refuge and strength. He gives us strength daily. I was hoping to get some translations on scripture music done during this little 3 day break we had but sickness complicated things.
We take nice pictures and prepare the presentations during our rest days.

There is a sad case of muscular dystrophy in a little girl we saw at church. I hope to send them recommendation updates through email.
There are always medical cases that require my attention between meetings. I enjoy serving.