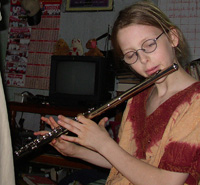 Jenny loved to share stories at the beginning of evening meetings. She did her best and prayed for those who came. She also played her flute as we taught some Scripture songs in Telegu and English.
Though often tired, her naps left her full of energy and ready for more fun.
Frustrated with boredom during the day, eleven year old Jenny looked for things to do. She was a great help making things for us to eat, washing clothes and doing whatever needed doing.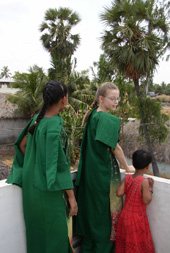 While her mom was taking a nap and Kyle was drawing Revelation graphics and reading His Bible, she wanted some action.
She often played running tag and hide and seek games with the daughters of brother Rao. When she found them preoccupied with television, she was very disappointed. She knows that television is a waste of time and brings worldliness into the heart. She dreamed up the perfect solution. She saw the stack of Steps To Christ books sitting in a box waiting to be given out.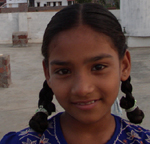 She decided to go up and down the street and see if she could give these away. The little daughter Susan 2 of brother Rao and little Sony wanted to go and help also. The three of them really looked cute with their basket of books.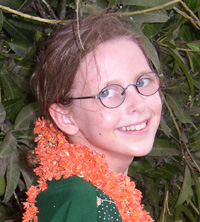 They stopped people on bicycles and those walking along the paths. They went into homes, prayed for people and gave out books. The excited glow on their faces showed me they were really enjoying this fantastic project.
It seemed they were sad when the books were all given out. A few had been saved back to give to the local Bible worker.