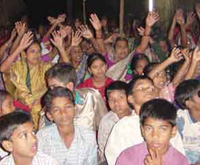 Wednesday after eating lunch we went out to a ladies gathering. We just had a most pleasant event. We went to the women's prayer gathering. Jenny told the story of Ruth and I shared some stories and testimony. Then they wanted prayers. The lady of the house told how she was healed and prayers answered. It was thrilling to pray with these godly people. There are so many dear people here. They took up an offering which they apply to some project of helping the poor. They take clothes to the poor and do many good things. Their faces literally shine with the love they have in their hearts for Jesus. It was a treasure to associate with these people. We are very happy here. Tomorrow we plan to do clinic. WE praise God for the comfort and for all the opportunities we have. Wish the camera was working. I would like to share pictures with you. Perhaps we can get some another way.

Another 90 degree day in AM and evening.
We stayed with some very kind relatives of brother M.'s wife Julia. They had been in America for a year and made several visits since. They understand many things which give us comfort. They are Pentecostal. They are very interested in helping in China. They have smuggled in Bibles and keep praying to raise more funding for tickets to enter China again to get Bibles into the hands of certain people. They seem very sincere. I am impressed by their devotion to service for God. They are very hospitable and good to us.
We are having meetings in front of the homes of different church members here and utilizing the power from homes for the meeting. The street is blocked off and they lay out tarps and the meeting is held with the Mathew picture full screen drawing even shy Hindus to their doorways to watch. The Telegu Bible is read while the English verse by verse of Mathew proceeds in the film.

As we set up in the street for night meeting I wanted to utilize the time wasted in waiting for screen set up and cords connections and all the delays. So I begin on my lap top battery power to jot this note. A crowd of little boys who only speak Telegu gathered behind me. Their eyes are huge as they watched me press the keys and watch the cursor move across the screen and words appear. They are so amazed at this thing we all know as typing.

We have had some delicious foods today. Kyle decided it was worth eating something when he saw French fries. He delighted in the vermicelli noodles and yet there was some flavoring that burned so he quit eating it. He loved the mashed potatoes and another rendition of potatoes where onions were mixed in with a bit of oil.
Things are getting better for his health. The orphanage has a few darling little ones. Jenny immediately picked one out for her sister. She kept begging me to take them home. I know she knows better than to even hope. She sure would like a sis. One child has a badly swollen hand that was caught in a door hinge. We soaked it in charcoal and applied a bandage but it really needs x ray and I am certain a bone needs set. Wish I could pay for it. It happened one week before we arrived.

The temperature here is so much cooler. It is 90 degrees in the cool of evening and humidity is 90 percent.

Jenny awoke to the sound of the bleating of a little lamb or goat. She forgot where she was and started to get up to feed her little lamb Melody. The disappointment she had when she realized she was not home, she had to cover with other activities. When she wilts and is overcome by home sickness, we sing and find some one to help. She was a good nurse to a tall teen who injured his foot. After soaking in charcoal she wrapped with ace wrap. She liked keeping busy. She attempted to help in the kitchen but they said she was a guest and should not help. She was so sad for she loves to cook.

I grieved yesterday when I was asked not to share about the 10 commandment Sabbath. They are concerned because I am an Adventist what I might be trying to share about the ten commandments. After the first meeting "As it was in the days of Noah", they said they liked my message . Then he pleaded with me to be careful. I promised I had to ask Jesus what He wanted. I have pleaded night and day for His wisdom and tact and for God to even choose every word and action that I might not hinder His work. I told him that one evangelist made such a terrible mistake in stomping all over a Catholic catechism before an audience in which a sincere kind loving Catholic was there as a guest. The man who brought the guest was horrified and knew his friend would listen no further. To his surprise his friend rejoiced in the light and accepted Jesus and all the truths clearly presented and was baptized. Later when questioned why he was not offended, he stated that he had not seen the catechism stomped on. God had hidden it from his eyes. I take comfort that when I sincerely try to do God's work, He will cover for the times I stutter or unknowingly lack sufficient tact to do any correctly or good for His kingdom. I would never harshly trample on a belief that one holds as precious. I gently, with much prayer beforehand, share what I have found so precious. These are sincere people doing their best for Jesus. They love Him. It seems to me the angels should do the work of sharing this information. It is beyond me. I am reminded of the story of Cornelius. God could have had the angel tell the whole story but He involved Peter. He involves us humans to bring the needed blessings before the people. Therefore, I know Jesus will lead me to the best ways to do His will. I pray I will do things which endear me to their hearts.
Before this plea was made, I had early morning time with Jesus in which I kept reading of the need to be brave through persecution. The persecution always comes when you have faith and when you keep the commandments. I shivered. Something is wrong in my heart for even hesitating to be willing to be in disfavor among previous friends or even to be killed. I look at these kind loving people who are so pleasant to us as Pastor J. was at first. What if they should begin to hate me? I shivered and grieved knowing when the Sabbath is rejected how quickly that love is replaced with a wild hate and revenge on us the same as that which put Jesus on the cross. I know it is really because of rejecting Jesus. Oh, may God search me and create in me a clean heart. I pray for HIS tact and wisdom that I will not needlessly offend any dear friend whom HE has blessed us with. No matter how much we love our friends, Jesus has asked us to be sharing the final message. That message states that the final test of loyalty to heaven is if we will keep His Sabbath and tell about it even in the face of death. Revelation 2:10 says not to fear.
While struggling, the fan turned the pages of my book Christian Service while my eyes were closed in prayer for God to help. I told Him the battle was too difficult to me and He reminded me of 2 Chron. 20. The battle is not mine, I must stand and speak and sing. He would do the rest. He would always provide for me. When I opened my eyes, the page was turned by the fan. My eyes saw a section that was highlighted. It said, I would be guilty before God if I failed to share the truth so important for this final hour. I must share the living Water. I showed the children and we prayed.

I grieved because I was being brought to choose between God and friendship with one who had helped deliver me from the wrath of pastor J. and between my FOREVER FRIEND JESUS. I had been through this test before when I left home in 95 for Russia risking the desertion of the dearest on earth to me, my husband. I know the consequences. I know who is feeding and caring for us. I have prayed and agonized seeing the struggle in his mind as he one day rejoices in the messages of the sanctuary and the ark which contains the commandment law. He sees clearly and is convicted it is right. He sees that the same law governs heaven and is the final test of loyalty. His faith one day rejoices and another day is overwhelmed by the enormity of the differences that could separate him from his friends and family and his work. The sign of loyalty costs everything like the merchant who sold all to purchase the PEARL (Jesus). That fabulous Pearl of great price. I must be willing to loose the friendship of this dear brother. The friendship of Jesus is the dearest PEARL to me. He alone will never reject me or forsake Me. He alone has the strength to feed me and carry me home.
In my mind I thought about the loss of friendship if I should preach freely. I thought about the lack of food and the difficulty of finding our way out of India with out help. Quickly God urged my mind that He could send Ravens and Crows to bring us food. He could even carry us to the exiting plane. He provided brother Rao in the other crisis, could He not again bring me someone else who could help me safely to exit India? Could I bravely, with heaven's tact and wisdom share God's final test of loyalty--keeping the 7th day Sabbath?
Couldn't God help me to be wise as serpents and harmless as doves? Could I not share the final message of warning to our world? I told Jenny and Kyle and we prayed together. Jenny burst out in her sweet way singing, "I am not ashamed of the gospel". She said, Mommy, I will share it. I have not been instructed to be quiet. "Out of the mouth of babes" is God's most perfect praise. No wonder Jesus thrilled at the free expressions of the children. They are so uninhibited by concerns which we adults have.

I praise God for all the good food. The comfortable beds here are so lovely. Our hosts are sacrificing and sleeping on hard floors of the stage in the church so we can have their beds. They are so loving to us. God is so good. We have the best comforts they can provide to us at great sacrifice to themselves. What precious servants of God live here. We love them. We treasure their friendship and pray daily for God to encourage and strengthen them as they unselfishly minister to others at great sacrifice to themselves.

There are about 100 who joined us visibly on the mats for meetings but along the streets crowds gather. In the doorways of the huts many eyes are watching.
One sweet Hindu lady gave her testimony of enjoying the changes that accepting Jesus 4 months back have brought to her. Yet she needs our prayers for family are making things difficult for her.

God is our refuge and strength Ps. 46
"Surely God is my help; the Lord is the one who sustains me." Ps 54:4
Evening and morning and at noon I cry and He hears Ps 55:17
"It is not for man to direct his steps. Jer. 10:23
Does the clay say to the Potter, what are you making?? Isaiah 45:9
Though you walk through the fire, you will not be burned. Is. 43:3
I will bring you back to your own land. Ez 36:24
"You are guilty before God if you do not make every effort possible to dispense this living water to others." Ch Service p. 12
God does not see as man sees. Ch S 207,
I Samuel 16:7 But the LORD said unto Samuel, Look not on his countenance, or on the height of his stature; because I have refused him: for [the LORD seeth] not as man seeth; for man looketh on the outward appearance, but the LORD looketh on the heart.
The faces of those who look to Him are radiant. Ps. 34:5
The Lord is with me, I will not be afraid or lonely ..what can man do to me? Ps. 118:6
Jenny shared her story of Balaam and only lost her thought one time. Translation delays can derail you from your place in your presentation but she is getting better each time she speaks. Kyle is not wanting to try anymore. I keep urging him and he says his stomach hurts.
At times I feel so lonely yet Jesus holds me in His everlasting arms. My two children are my comfort and fellow companions in this ministry.

Safe In the Arms of Jesus,
Trusting in our Father's presence,
Your fellow laborer in the Master's Vineyard