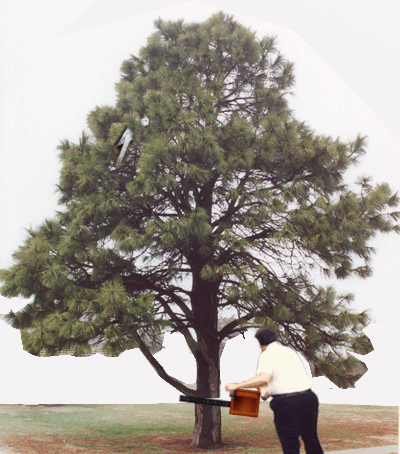 I could not watch this. You know sometimes God has to use desperate measures to rescue people from sin. The "ax" has to be put to the root of the tree. When everything else fails, He sometimes has to cut out from under us all that gives us security. We have to go without things like home, and friends, computer, games, and He allows us to experience real difficult times. The crashing thud as our tree falls, can stun us. Everything changes. During those valleys we see His roses of comfort and love. We learn we should never have been afraid of Him for He was only working for our best good. The silly bird did not seem to realize this. He was too frightened to listen to our quiet coaxing calls.
I was chilled to the bone and damp so I climbed into bed under the heated blanket with my book of promises and prayed. I heard ping, ping, ping on the roof as marble "hail" kept pelting past the bird and hitting our shelter. My husband and oldest son were just not going to give up on their frightened feathered friend.
Finally I heard "timber" and wondered if the bird would fly to another tree. Silly thing, it rode the tree to the ground. He was so frightened he just hung on. He then hopped around on the fallen tree. It may have had a period of being stunned for they had to look for the little form among the pine branches. When God takes us through sickness, loss of everything, or grief, we are stunned and silent. It is easier to teach us things during those times if we allow Him to and determine we should not become bitter.