Little Seed Sprouting Miracle
We plant, another may water, But God gives the increase.
I Corinthians 3:6 I have planted, Apollos watered; but God gave the increase.
3:7 So then neither is he that planteth any thing, neither he that watereth; but God that giveth the increase.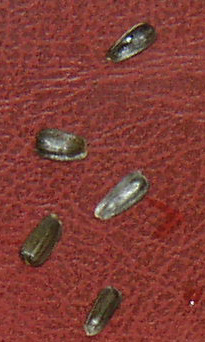 I needed to sprout some seeds for the TV recordings being done just 4 days from the time I thought of the illustration. I began planting different seeds. I really liked the Teddy Bear sunflower seeds. The flowers they make are so cute. The plants get nice and tall. This one I planted was a dwarf hybrid. If it did not grow I planned to use a different illustration. In just two days they germinated and began to open up. I was thrilled because it said on the package it could take up to a month. It seemed like Jesus was doing something special for me.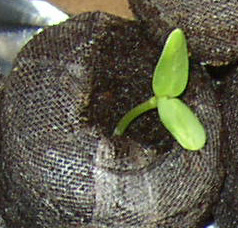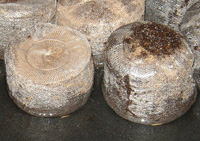 I had a nice sprout when it was time to film. See how much it grew? I called my friend who is helping with the recordings and she had the dried sunflower heads of the same flower with seeds still in them. It was perfect. Then we had the children plant the seeds. As we watered the little seed blocks they grew.
It was a little miracle.
I just put the seed in and hoped. Jesus made it germinate and grow. In just 3-4 days I had a nice little plant just in time for the show.
It reminded me of the day Jenny was being baptized in cold December in 1998. A friend gave us a little daffodil that just had the leaves. She had put a daffodil bulb into the flower pot. Jenny wanted me to share the special daffodil story at her baptism. I wondered if God could make that daffodil grow real fast in just a week and make it bloom. It would be a special token of heaven's love to us.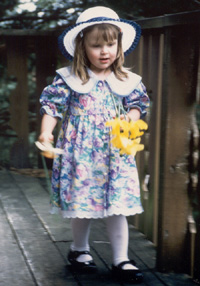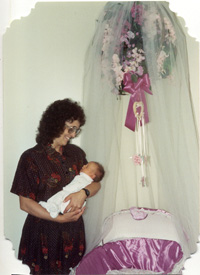 The daffodil story is her special story. She did not know how much my mother heart ached to leave her when God called me in a dream to go to Russia on His first call to me to go out and preach. I argued with Jesus. I had waited 19 years for this little girl. How could I leave her for even 2 weeks. She went everywhere with me. She went to the doctors office with me and stayed in my office. In between patients I would feed her and hold her. How could I leave her behind and go to the other side of the world to Siberia without her. Jesus reminded me of Jonah. I had to go. I always wanted to be a missionary doctor. I had to obey even if I had to leave Jenny in the loving arms of my dear secretary Dorothy.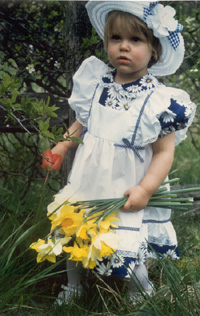 Just before I left a pastor's wife told me that she had to leave her daughter for a week and when she got back her daughter refused to be held or hugged. It was as though she had felt rejected and tried to punish her mom. Oh, I would be broken hearted if that happened to me. I cried every night for my baby. How could God ask me to leave after I waited 19 years to hold my little girl? I thought of the story of Abraham. He must have suffered like this. Oh, how my arms ached while I was gone. I read how Ellen White had the same experience. One day some body said something that made her cry. They said they were jealous because Ellen got to travel everywhere. The adventure must be so much fun. Why she did not even have to worry about her children for someone else cared for them.
Every day I did my best telling the good news about Jesus. Many mothers came and told me how much they appreciated that I would leave my dear 4 children to come and give them hope of eternal life. Many children gave up their special home made stuffed animals for me to bring home to my kids. When I arrived back home. Jenny had her arms open for me to hold her. Her hair was silky and fixed so cute. Every day my dear secretary told Jenny how much longer till her loving mommy would be back. Her greeting meant so much to me. You can't imagine how relieved I was to see her healthy and happy and glad to see me. She gave me a big bouquet of daffodils.
I had to leave her so many times till Jenny was 7 years old. It is just too difficult for children to travel and take the stress of mission work till they reach 7.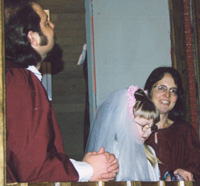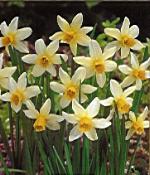 So do you know what Jesus did for her baptism when she was 7? He made that daffodil grow faster than any I had seen. On the day of the baptism, it bloomed very nice. God was happy to see this event. I enjoyed the baptism because the pastor Dan Gorge told me to get in the water and help him baptize Jenny. He said since I had the same training he did and I had brought up Jenny to love Jesus, and was a missionary, I should baptize her. It was the most precious day in my life. It is not typical for men to allow women to baptize. I was so thrilled at this treasured gift to me. I had led hundreds to Jesus and this was the first one, my own daughter that I was able to baptize. The first birth and the second birth, I had been there for both. Jesus and the angels celebrate when one chooses to be in His family. I know they were very pleased.
We plant, another may water, But God gives the increase. We can put in seeds but no one in this world can turn that seed into a plant. Only God can do that amazing thing.
I Corinthians 3:6 I have planted, Apollos watered; but God gave the increase.
3:7 So then neither is he that planteth any thing, neither he that watereth; but God that giveth the increase.
Written Feb. 11, 2003
Seed miracle happened Feb 9
Daffodil miracle happened Dec. 26, 1998