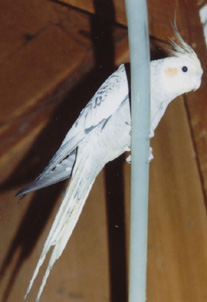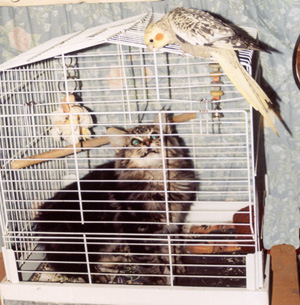 Just like all kids, he does not like to go to bed. We open his cage door and turn out the lights and have to catch him and put him in his "bed".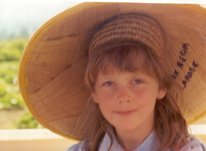 He is so funny how he sasses the cat. They go round and round the house playing their games of hide and seek. When Tiger was introduced to "bird", he was a little kitten. "Bird" taught him to respect him by chewing on the kitten and pecking and hissing.
We have a round hat on the wall given to us while on a mission trip to Borneo. It is the very one used by Jenny in this picture. He crawls behind the hat on the wall so no one can see him. He will sleep back there or pick at the straw with his beak and then we know where he is. Another favorite place is a hanging basket with a shelf. Both the cat and the bird fight over this perch.
He gets upset if the cat gets into his cage "bed". He hisses and scolds. We have spoiled this bird and he thinks he is commander in chief.