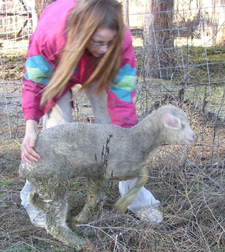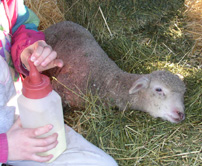 By Wednesday we were wondering if she was going to make it. She would try to move then lie down all limp. Wednesday night at prayer meeting, Jenny whispered to me, "Mama, is it ok to ask for prayer for the lamb?"
I said it would be a great idea. I asked the group if they could ask for Jesus to do a miracle that would bring the maximum amount of glory to His name and encourage the neighbor to believe that God really cared about her. Since she was soon to have a procedure to help her heart work better, it seemed if God would take this opportunity to show Himself strong to her. I was sure it would comfort her as she faced her own health risk.
Pastor Jeff, smiled at Jenny and and very gently said that there was no prayer request Jenny had that was not important to God. Jenny feared someone would laugh. She had tears in her eyes and wanted to go hide in the car while everyone was praying.