[ Home ] [ Up ] [ Gods Flute ] [ Brilliant Light ] [ Papalote ] [ NEW COVER ] [ Ark Porting Miracles ] [ Bread Miracles ] [ Affirmation ] [ Lost in Tampico ] [ Hotel Chachos ] [ Ladder Dream ] [ Army Protection ] [ THIRSTY ] [ Translator Miracles ] [ Sabbath Fuel ] [ Going Home ]
Chachos
At Chachos Hotel in Ciudad Del Carmen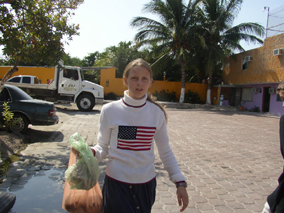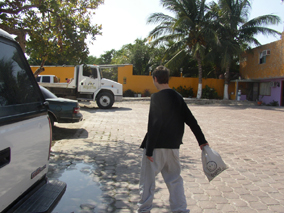 What a nice welcome we had at this hotel during our 2 week stay. We were taken here by Landy, our friend from Tecpatan. She was concerned we would not be close enough to the clinic work we do because in Tecpatan we had to walk. Then she realized we had a pickup to get us around and she felt all would be fine there.
This motel provided us a little private space to call our own. A place where I felt I was not bothering anyone to be up early except my two children. They understood.
I heard brother Ricardo Sosa asking people to help us with food and with offering to cover at least the hotel costs. At times I wondered how I could come up with the fees but God provided all that. I concentrated all my energies on the daily appointments.
I asked God to wake me up in time to get it all together for each speaking obligation. The schedule was tight as we packed all we could give into our time there on the island. The last 8 days I had 4 speaking appointments a day plus clinic.
I felt I needed to open the motel door and get the air exchanged. So at two or three in the morning I was studying for presentations. Victor was very helpful and made sure I was safe. He was concerned for all the infected mosquitoes that might come inside.
Victor was so helpful in giving directions for driving in the city. He spoke some English and this was a comfort.
Eva and Victor were always looking for ways to make us comfortable. The day I was leaving, Victor checked the liquids in the engine and helped Israel replace the windshield wiper.
Their cute dog loved to find rest and shelter from the sun under "God's elephante" He did not respond to our English coaxing so Jenny always had to remove him before departure.