[ Home ] [ Up ] [ Gods Flute ] [ Brilliant Light ] [ Papalote ] [ NEW COVER ] [ Ark Porting Miracles ] [ Bread Miracles ] [ Affirmation ] [ Lost in Tampico ] [ Hotel Chachos ] [ Ladder Dream ] [ Army Protection ] [ THIRSTY ] [ Translator Miracles ] [ Sabbath Fuel ] [ Going Home ]
Bread shall be Provided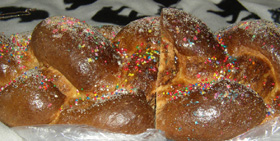 It was near the end of a busy series of meetings where I was speaking four times a day and having clinic from 10AM to 1pm daily. I had not had time to eat yet. No one provided breakfast. Since breakfast is the largest meal of the day for me and it was past noon, I was faint. A man came to the stage as I completed speaking at church. He had a big smile on his face and a package in his hands. He is a baker. He proudly presented this fancy bread he calls kidney bread. It tasted delicious. We mentioned to each other, "bread shall be given them, their water shall be sure". This was another incident in the long list of miracles where God has provided all the food we need as we work for Him.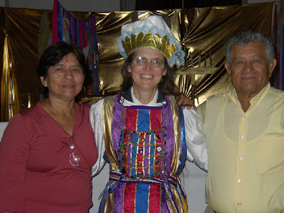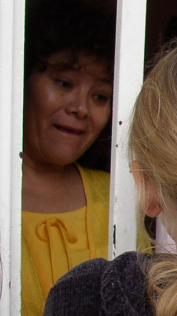 When we first entered the island, brother Ricardo Sosa had his daughter there visiting. She was from Tecpatan, Chiapas where we did a series the year before. Landy was cooking all kinds of good things for us before she departed for home. Landy was the reason we were doing meetings in Ciudad del Carmen. It was so good to see her and Beto again. Lloyd, Ian and Kyle felt at home to see them again. The weekend started that night with our first meeting just a couple hours after we arrived. The next day we had the church service. Landy made sure we had all kinds of good things to eat. She remembered our vegan vegetarian diet and urged all to take good care of us. Everyone on the island was so frightened about cooking for us. They did not know how to cook vegan for us that no one wanted to try. Landy's mother left town to be with her sick mother and that left Mr. Sosa and Evasio. Together these men cooked a lentil stew while we were setting up the sanctuary. It was tasty. At the same time, Mr. Sosa was trying to find better speakers for sound problems at the church. That was exactly what we needed for the meeting. God provided all we needed. The example of these two men led other cooks to think if men could do it, so could they.
Mr. Sosa also drove a bus to bring in people from off island. The bus line belonged to his daughter Landy. It was very difficult for him when the bus broke down. He was up late trying to fix it. He was scheduled to give meetings again in the church we had just finished in Tabasco.
Soon people were arguing over who was next on the list to feed us in their homes. I don't know what made the difference but we really enjoyed our loving brothers and sisters on the island. Each gift was God's fragrance.
The night before we left, Alma and her mother Marta were insisting we go to their home. They had so many delicious things we could eat. The sad thing was that I was suddenly so weak, I just wanted to rest. It was frightening to them. That is another story.
God always provided more than enough.