[ Home ] [ Up ] [ Ch 1 Driving to Villahermosa ] [ Ch 2 Lets Go Home ] [ Chicken Claw Soup ] [ Flea Bitten ] [ Mayan History ] [ Baby Steps to Christ ] [ Tetanus Trouble ] [ Exhaustion ] [ Demon Possession ] [ Spelunking ] [ Nature Outing ] [ Chamula Church ] [ Broken Eagle and Elephante ] [ Passion Books ] [ Laptop Tumble Crash ] [ Gospel shoes for Kids ] [ Clinics ] [ Back Pain ]
Broken Eagle & God's "Elephante"
It is amazing how God can turn a broken car into an opportunity.
Like the Bible story of the Lady of Shunem who built a room for prophet Elisha, God blesses those who care for His workers. He continues blessing them for many years after they've almost forgotten what they did. The Lady of Shunem was given a little boy of her own and many years later after a famine, she needed her land back and God was still blessing her though it was more than 10-15 years later. God never forgets kindness to HIS workers. He is not going to forget the people who reached out to help me on my mission to Mexico November of 2004.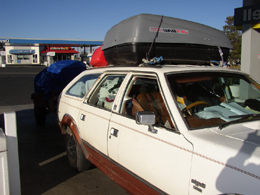 The Mexico trip plan A was not working out. It was time for plan B. The 19 year old son who had just had aneurysm surgery was put on a jet to fly to Mexico with the brother who is 18 months younger. My husband said we should just get all we could into the Eagle and get going. We would meet them there. We quickly hitched the little utility trailer onto the '82' Eagle and put all we could into the car. There was hardly any room left for us. The trailer lights were not working.
After two hours driving the sun was almost down by 4:30pm. I could not go any farther without lights. The shops were closed due to the Thanksgiving Holiday. I was thrilled to find Wal Mart open and purchased a set of lights that were exactly what I needed. I praised God and pressed on in the dark as far as I could. Pulling the mountains in the dark we were surprised at the gorgeous light from the moon on the snow. It was slow going uphill but we were singing God's praises that we were able to do something to spread the gospel.
All the next day we covered miles and noted that the hills and the trailer made the car need fuel more fuel. It was difficult to know when it was low because the gas gauge was broken. For emergencies, we had a gas can on top. I was directed by Ron to take a route to avoid snow. I noticed it was really barren with very few gas stations. Those I did find were asking $2.20 to $2.79 per gallon. I was glad the car engine was working well. I couldn't imagine what it would be like to break down way out there in no where land.
Suddenly the car was out of control. The sickening sound of metal on metal told the story that a tire had left the car. As I cried to God for help, the car came under control going the right direction with the trailer still attached. We had skidded on the bottom of the car at 75 miles per hour. The gas tank had not exploded. Tears came to my eyes as I saw how hopeless my car looked underneath.
It was just before dark. The first lady to drive by was just the one God had asked to help us.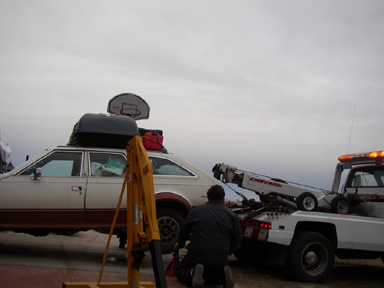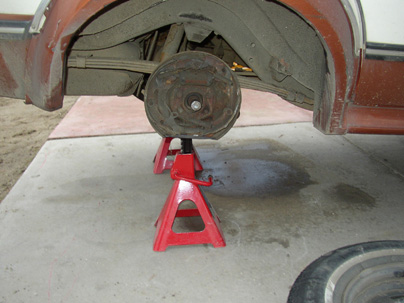 We discovered the axle had broken and the right back tire had rolled away. We recovered the tire and soon we had help. A kind hearted lady drove by slowly then went to bring her husband Ken. He said we needed more than tire repairs. We needed serious axle, brake, and exhaust repairs. They knew how to help us trust them. They were so thoughtful.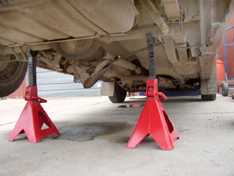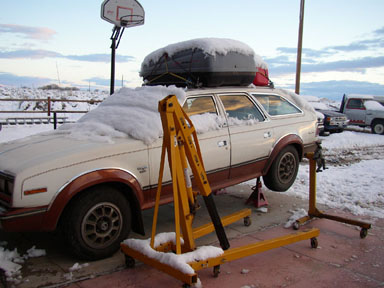 The tow truck took us to their shop "MAD Mobile" for repairs.
As the jacks were placed we could see the trouble.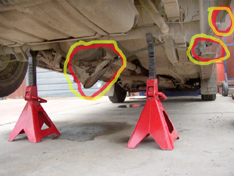 I am not a mechanic but as I understood how hopeless it was under that car, I looked to heaven and trusted that He had a plan. I did not have any extra funds for such an emergency. God knew this. He had a plan. I tried to relax and wait for Him to open that plan to me. I was pretty shaken by the rough ride but soon these dear new friends had us
It was amazing to me that these dear people provided food and shelter to a total stranger. This is rare in America. I discovered there were many in Fallon who were helpful.
That night a snow storm struck the town and we were so thankful for their kind hearts and cozy accommodations. The next morning was Sabbath and they found our Seventh Day Adventist church.
As we ate together that afternoon and shared stories of our mission plans, we were made so comfortable. We waited till later to lay plans to wait for repairs. God had another plan. He wanted us to take HIS ELEPHANTE. David was impressed to share his pickup. It was a dual cab with canopy and complete with a hitch that exactly fit the trailer.
The transfer of equipment and clothes for the poor as well as the sanctuary props was done by the teenagers while I was in town getting the truck papers lined up. After vehicle evaluation, appraisal, transfer fees, tank fill, insurance we were finally ready to depart.
Elephante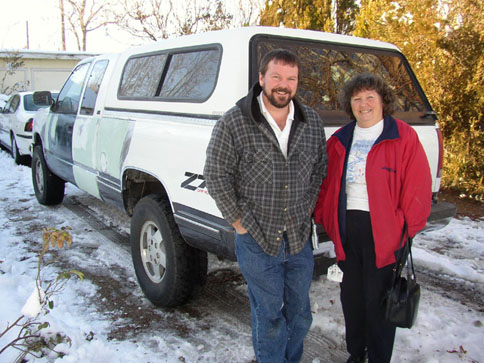 As we ate together that afternoon and shared stories of our mission journeys, a brother was listening. He urged me to take a pickup of his and continue my mission plans. The truck had been in an accident on the side of the driver's door. The door was replaced and now the painter was ready to make it white. I was afraid the truck might get scratched but he insisted he would wait to paint it when I was back.
I argued but he insisted. I prayed and was assured by God it would be just fine. Psalms 50 seemed so important to me. God has the cattle on a thousand hills. He owns the GMC Z71 off road trucks on a thousand freeways. He can provide any vehicle at any time that HE wants.
I had met a sweet widow lady in church who offered a place for us Sabbath night. She prayed with us and as we shared, it became her determination to make sure the papers were fixed up on the truck. She helped me get the title into my name and insured the truck. She even filled it with gasoline. She was such a blessing taking me everywhere I needed to go to get the needed documents ready for entrance into the foreign country.
Every time I was afraid, I prayed for Jesus to make sure He was in the truck and helping me drive. The pickup seemed so enormous. I was afraid there might be some bicycle or someone on the side of the road that might get hit. I prayed more than ever before with each breath I took in. I know I had help getting to my destination.
It took more room to turn around with the trailer. I learned how to deal with each challenge. The space it took to turn also surprised the Mexican helpers who were used to little bicycles. They tried to help me turn around and discovered the big white truck could get squeezed into corners in little dirt roads and not be able to turn around. We began calling it God's elephante. Whenever the road was free of speed bumps or "topes", they would sing out, "make the elephante run".
Even though the elephante took more food than the car, God provided. He would never provide an elephante without providing enough food for it. We always had what we needed. The battery went dry and lost charge. They replaced it with a nice new one. The engine overheated and I had to add coolant several times on the last day going down. After special prayer, it never had the problem again. The wiper broke and God provided another on the day I left for home. Pulling a little 6 by 6 utility trailer, the elephante took 1 gallon of fuel for every 13 miles. They also charged me double on the "autopistas" because of the trailer (remolque). I kept wondering why I had drawn that trailer with the wooden ark. I had never taken that wooden ark before. Later in the stories, you will see that it was necessary for what God wanted to do.
Mexico has new toll roads along the Gulf coast where you can travel up to 65 mph. These little places where we could travel for 10-20-100 miles at higher speeds helped us make it to destination in 5 days after crossing the border. Our destination was 1000 miles south of the Brownsville, Texas border.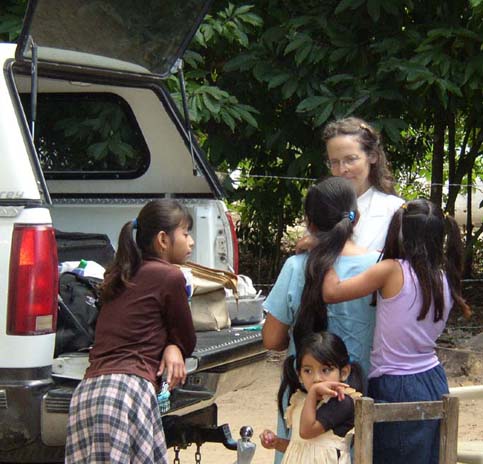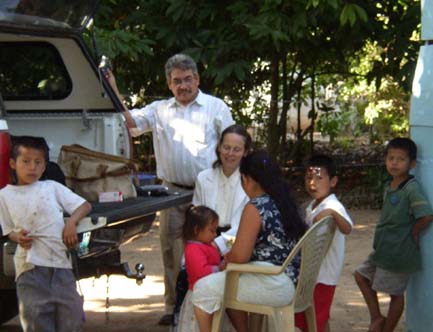 Daytime clinics in the state of Tabasco drew the people. Pictured are villagers, Dr. Rose and Pastor Luis Morales. We did not need a telephone. Children watching spread the word and others came just out of curiosity. There was an elder in charge of each church who was supposed to send out announcements by speaker a day ahead. The clinic was set up a variety of different ways in each of 10 churches. Each day we went to a different place. People looked forward to the visit.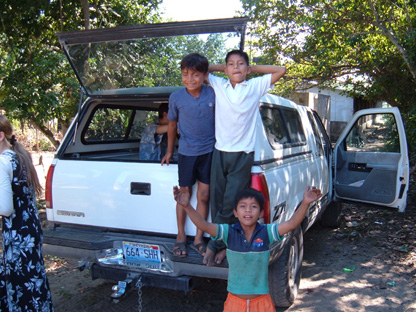 It was frustrating to do clinics in areas where we could not do any follow up. The best clinics are always done at the site of our meeting series. Another way is to rent a bus and bring the people from the village where clinic is done. Most everyone who came to clinic will come to meeting when there is invitations available or announcements.
On the island of Ciudad Del Carmen,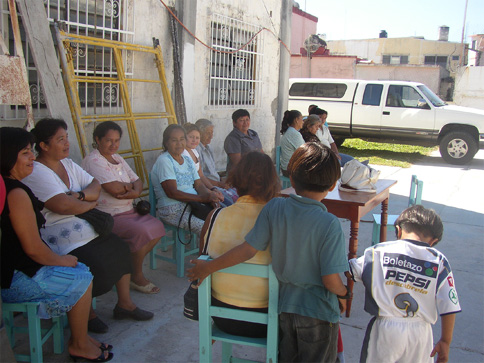 Clinic was held in the little children's department room behind the central church on the island. A couple days it was held in the kitchen. That was perfect for my water supply and table access but it was in the way of some girls who were camped there doing door to door book sales. The people waited in the shade of the church. It was too hot to use the end of the truck for clinic. People were invited to attend the meetings at the same place in the evenings. Many visitors came just because I was going to give a health talk on the same topic they came to clinic for. They loved the topics on cough remedies, on sprouts, and on the use of charcoal etc.
Without this truck, I could not have had freedom to go and come from clinics with all things I needed and get to meetings on time. God knew it was needed long before I ever realized it. I climbed the curb into the back yard of the church without out any problems. Just getting through their gate was a challenge.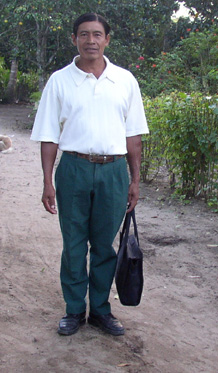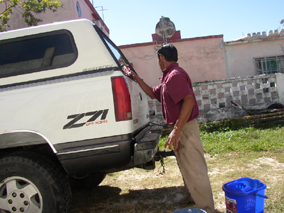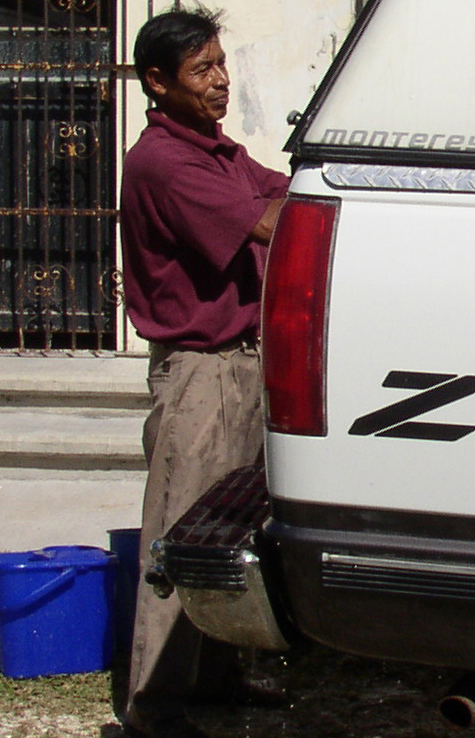 While there, a man named Evasio shined God's elephante up. He took pride in riding in God's elephante. He saw the first program in Guerrero and then wanted to help at Cuaoatomec and then wanted to go help at Ciudad Del Carmen. It was such a blessing to have his help.
Each day was full of surprises. God's elephante and the story of it has reached so many hearts.
Returning home
On the way home the elephante had a nice bed inside the canopy for the tired Doctor Rose to catch a few minutes to sometimes hours of shut eye. It was so comfortable. Exhaustion was the worst enemy. God gave supernatural help waking the driver when she fell asleep. Just 20-30 minutes napping along the roadside and she was able to keep driving for awhile.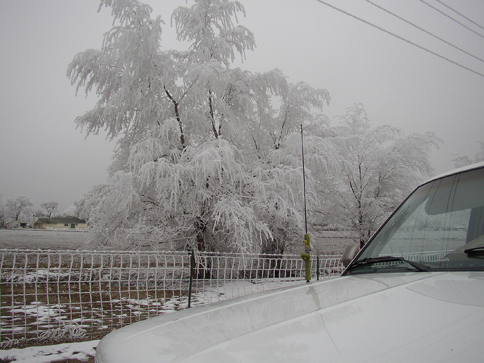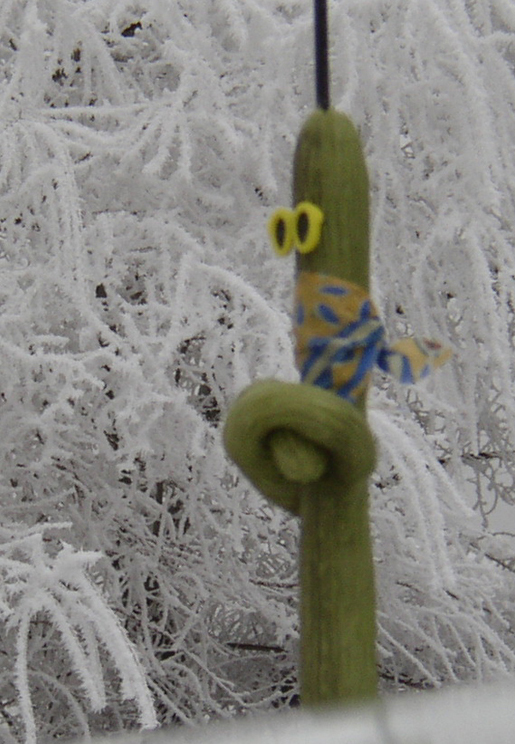 The elephante had hot weather all the way to within about 100 miles of it's owner. Then we hit the fog that had frozen on all the trees. We had put a cactus emblem on the antenna. The kids made its arms fold up like it was cold and shivering as we returned the truck.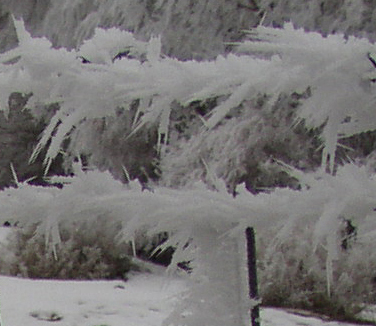 Two months later we returned to the ice box from the tropics to find our car all fixed up. In spite of the cold the car was ready. I was so thankful for the expertise of Ken. God had HIS EAGLE break down right near a couple who would take good care of us, and be able to fix it. I sing praises to God that my auntie paid for the repairs.
I marvel as I think of the 8,000 mile trip and all the other places it could have broken down. You know, there were cliffs, there were dangerous places this could have happened and no one would have found us. God had more work for us to do. He kept us from tumbling off the road. He obviously had HIS hand in the whole thing. We learned many things from this event.
We were overjoyed to find our car running so nicely. It seemed so small after driving the "elephante". We scrunched in the things and realized our load size was really not much different. I guess you can never out give God.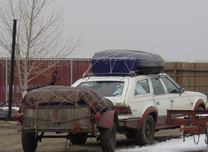 What joy it was to find our friends waiting for us with all working fine. Auntie paid the repair bill. Parts had to be shipped in from Washington. All was in order when we arrived. There was even an extra surprise.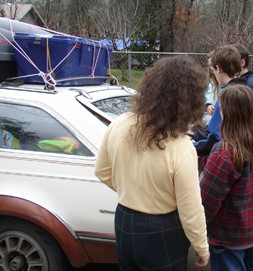 n On top of all the other blessings, we had the bonus of nice tires.
These tires did not slip as I went through snow in the mountain pass. I was so grateful for all God has done through those who love Him. God has so many who love to help in the mission projects. All are part of the team.
Every time we stopped on the way home, more food and love gifts were stuffed in the back until we nearly popped the window out the back at my sister's home while pressing the hatch shut in back. You can never out give the Lord.
I know the God has already started giving out HIS special blessings to those who helped me on this mission journey.