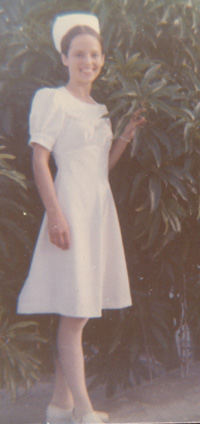 While doing general duty nursing, I cared for many newborn babies and their mothers. There was no special department for the babies. The hospital was new and there were many needs. The families took care of the newborns.
At the nurses station there was a small electric pot that kept water just barely warmer than the air. I noticed that all the baby bottles and nipples for feedings were rinsed and placed in this pot for "sterilization". They were kept at least one minute here for cleansing. All of the different babies bottles were taken to this same pot with the same water. Then the bottle was given to a different baby for the next feeding. Any germs one baby might have grew nicely in that warm water and were shared with the rest of the babies. Any infection one might have was given to all the rest. The babies were sent home after three or four days and no wonder so many babies did not live to see their first birthday. If they survived this, there were germs waiting for them at home. The floors were dirt and they often had pigs running about. Those who did survive to their first birthday had cakes made for them the size of wedding cakes. We saw families celebrating the first birthday with such rejoicing.
I wanted to improve these conditions. I saw the system in the hospital not working well if the mother of the newborn had to go through a Cesarean section. She was still asleep from the anesthetic and could not do anything. The little baby often cried itself to sleep unless grandma or auntie was there to feed and change him. The nurses were very busy.
I bathed the babies and it frightened the people. As I cleaned the baby, I showed how to take care of the umbilicus. They had bound the tummy with a band of cloth and put a quarter over the clipped cord area. The cloth band was very dirty. They explained that this practice kept the naval from sticking out so far when it was an adult. Urine soaked these binders and the skin blistered. Custom is not easy to change I began to realize. With the help of a zmexican doctor I showed the blisters and explained the effect of using binders.
One day as I bathed one newborn, I discovered five layers of coats, sweaters and things under the baby. The baby was so high in its crib, it was about to tumble out.