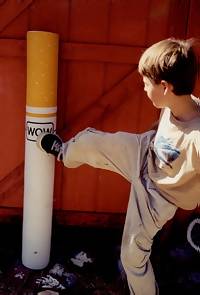 There are poisons in these cigarettes that slowly kill the body.
This giant cigarette illustrates the amount of poison that enters the body in one year from smoking 1 pack a day. Kick the habit before it kills. Don't ever start the habit.
There are over 4,000 chemical compounds found in cigarette smoke. This is a partial list of the major toxic agents.
Arsenic, Ammonia, Acetaldehyde, Carbon Monoxide, Cresols, formaldehyde, Hydrogen Cyanide, Phenol, and Urethane.