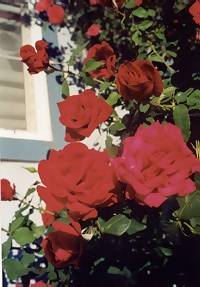 After the mission trip into Mexico, I was packing up our things for a big move away from Portland. My younger sister was helping in the home of Julie and promised to call when night nursing/doctoring care seemed necessary.
Joel 2:27....and my people shall never be ashamed.
2:28 And it shall come to pass afterward, [that] I will pour out my spirit upon all flesh; and your sons and your daughters shall prophesy, your old men shall dream dreams, your young men shall see visions:
2:29 And also upon the servants and upon the handmaids in those days will I pour out my spirit.
I dreamed that I was attending a funeral or memorial service. I could not tell whose funeral it was but when I awoke early, I gathered all the clothing of my four children that they wore to church. It took several hours because washing needed to be done. There were stacks of boxes of belongings everywhere. All the pots and pans were almost packed and some boxes had already been opened and unpacked by children looking for a toy. Everything was disorganized. The challenges of caring for four children, packing and all is enough to keep 3 ladies busy full time. I was alone in this work. My husband was five hours distance away working at his job. I really needed God's help! He promises to be a husband and an comforter. He was right there for me. He gave me this dream, I was positive about it.
Isaiah 54:5 For thy Maker [is] thine husband; the LORD of hosts [is] his name; and thy Redeemer the Holy One of Israel; The God of the whole earth shall he be called.
I made sure these and some play clothes were all packed ready to jump in the car to go help with the comfort care of my sis dying of cancer. I had just finished when the phone rang and my younger sis urged me to come. God timed it for me. I grabbed a very light electric heating blanket thinking it might be helpful on my dying sister. My dear friend Nancy Stagl took me up to Goldendale. My husband was 5 hours away working in an emergency room in Othello.