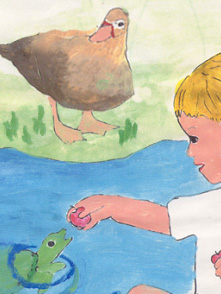 I was trying to draw pictures to illustrate a set of Bible studies for young children. Artists I had found wanted many dollars for each sketch and the total would run up to 10,000 dollars.
I wanted a complete set of these studies for my own children and had such a strong determination to complete the set. I prayed and asked God to place His hand on mine. Since He was the artist, I would let Him direct me.
One night the lesson I was working on was heaven. I wanted children to imagine having fun in the water of life feeding ducks. The duck looked too sick to live in heaven. I was so discouraged.