Jesus Forgives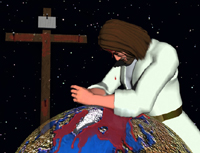 Jesus came to earth to show us how to live and forgive. He gave us all the best examples of forgiveness.
He healed people, raised the dead and shared with the poor. He was always bringing hope.
His life ended on the cross. The most mean and ugly things were done to him.
His clothes were stripped off. He was nailed to the cross with sharp thorns smashed into his head. People said horrible things to him, spit on him, beat him, kicked him and ripped sections of his beard out.
Jesus did not murmur or complain. His face remained pale but calm. Great big drops of sweat stood on His forehead. No one comforted Him.
While the soldiers were doing their fearful work and He was enduring the most awful agony, Jesus said, "Father forgive them; for they know not what they do."
He was able to think about the needs of those harming him. He did not curse everyone. He did not call for revenge from Heaven. He just prayed for and forgave them.
This is the most unusual forgiveness. The worst torture could not stop His forgiveness.
See the next story of forgiveness: Stephen