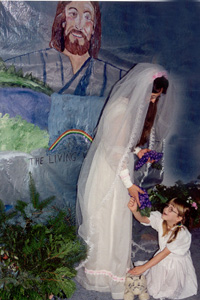 Jesus said that these 10 girls were like His people just before He came to this earth at the end of the world. The two different classes of girls showed there will be two different kinds of Christians waiting and watching for His return. They were all in the true faith.
The lamp was a symbol of the Bible.
Now is the time Jesus invites you every day to study His Bible. Pray for the Holy Spirit to change you. Ask Him to do whatever it takes to save you. Many in that last day will complain to Jesus that He should know them for they had done many missionary trips. They had cast out demons and prophesied. Judas who betrayed Jesus, healed the sick, cast out demons and worked as a missionary. He was in love with money and lost eternal life when he betrayed.