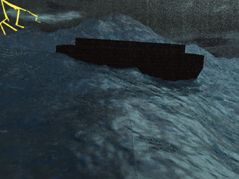 The door of mercy to them was closed. They all died as the flood covered every mountain and every tree. There was no place left to run to.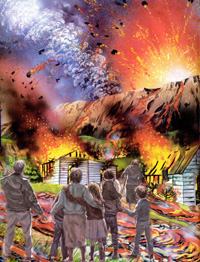 The door of mercy is about to close again on this old world. Many are running about making big houses, buying fast cars, trying to save up money so they can be the richest people in the world. All around them are people hungry and sick but they do not care for anyone but themselves. There are crimes of killing and hurting others every day. Many are just playing computer games all day and not doing a thing for others. The door of probation is about to close. Then no one can change. There will be a time when it seems nothing is happening like those seven days of quiet in the ark before the flood. But God will destroy the wicked on this earth. He will not use water and flood as before. He will use a lake of fire.
Don't be tricked into thinking when you see the fire, you will get ready. Those who waited till they saw the rain and flood begin, they all died in their sins. Those who wait today for those final events, will be lost in their sins.
Today is the day of your salvation. Today is the day to give your heart to Jesus and ask Him what You can do to honor HIM. Give your heart to Him before it is too late. If you want to do this, go to the section called 'Will Jesus Accept Me?' and pray the sinners prayer. If you want to ask for more lessons on preparing for this event, you can write for lessons. Most every lesson we have is on the two web sites. (illustratedbible.com and larom.org)
You can write to Rose at: Biblelessons@Starband.net