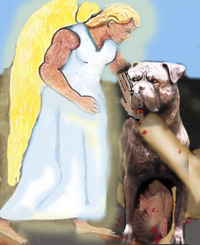 God's grace will be dispensed to His servants to meet the emergency. ..It shall be given to you in that same hour...Mt. 10:19
I will not leave you comfortless, I will come to you. . .But the Comforter, which is the Holy Ghost, whom the Father will send in my name, He shall teach you all things, and bring all things to your remembrance, whatsoever I have said unto you. Peace...Let not your heart be troubled, neither let it be afraid. John 14:18-27
Even hairs of your head are numbered, fear not, ye are of more value than many sparrows. Mt. 10:30-31
The disciples were not endowed with the courage and fortitude of the martyrs until such grace was needed. Then the ...promise was fulfilled... Their preparation was to be made day by day in treasuring up the precious truths of God's word...His servants were not to be discouraged by persecution, but to seek a place where they could still labor for the salvation of souls. " DA 353-355
The Saviour bade His disciples not to hope that the world's enmity to the gospel would be overcome, and that after a time its opposition would cease. He said, " I am not come to send peace, but a sword. This creating of strife is not the effect of the gospel, but the result of opposition to it. Of all persecution the hardest to bear is varieance in the home, the estrangement of the dearest earthly friends. But Jesus declares, "He that loveth father or mother more than Me is not worthy of Me: and he that loveth son or daughter more than ME is not worthy of Me. And he that taketh not his cross, and followeth after ME, is not worthy of ME."
Remember Elijah was accused of troubling Israel? Beware when all men speak well of you. (Luke 6:26 Woe unto you, when all men shall speak well of you! for so did their fathers to the false prophets.)
Elijah responded by saying, I am not he that troubles Israel and boldly told the king Ahab, leader of God's people he himself was the one troubling Israel.
I Kings 18:17 And it came to pass, when Ahab saw Elijah, that Ahab said unto him, [Art] thou he that troubleth Israel?
18:18 And he answered, I have not troubled Israel; but thou, and thy father's house, in that ye have forsaken the commandments of the LORD, and thou hast followed Baalim.
Unto you it is given in the behalf of Christ, not only to believe on Him, but also to suffer for His sake." Philippians 1:29
"And of all the gifts that Heaven can bestow upon men, fellowship with Christ in His sufferings is the most weighty trust and the highest honor." DA 225