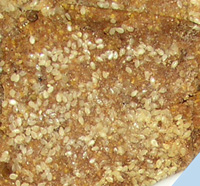 Ingredients
1/1/2 Cup WW flour
1/3 C Corn meal (fine)
1T olive Oil
1 1/2 tsp Salt
1/2 Cup Lentils (cooked)
1 T Millet (ground into powder)
1 1/2 C Water
Flatten onto oiled pan.
Sprinkle with 1 Tablespoon onion powder
Sprinkle with 1/2 C Sesame seeds
Bake 20 minutes @ 350 degrees Fahrenheit. Bake longer ( 30 min) for a crispy cracker.
My husband said this was something I could make every meal and he'd love it.
When using as base for pizza, leave off the sesame and onion powder, bake for 15 minutes then load up with toppings and finish baking another 15 min. Also try the tofu cheese.