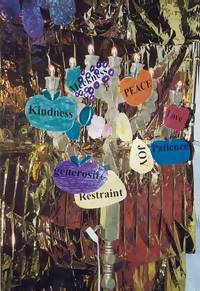 The out pouring of the Holy Spirit had quite an impact on everyone present. There was preaching in other languages. People from out of town heard the messages in their own mother tongue.
There was a unity among people who normally would fight.
Fruits of the Spirit were seen. These are love, joy, peace, long suffering (patience), gentleness, meekness, temperance (living healthfully, taking good care of their bodies) and faith. (Galatians 5:22)
More fruits are: being generous and restraining evil tempers.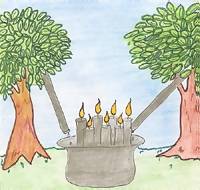 Golden Bowl of Zechariah's dream (Zechariah 4)

Zechariah saw the same symbols with oil traveling down golden pipes from two olive trees. The bold was gold and held the oil. Seven candles burned from using this oil. The two olive trees are again discussed in Revelation 11:4. These trees are the witness of the old and New Testament parts of the Bible. Our hearts are like the bowls. If we have hard feelings in our hearts, there is no room for the information coming from the Bible. If we are free of hardness in our hearts and full of love, we will not be blind to truth. We will be bright lights to the world sharing truth.

As you study the stories on forgiveness in our web site: illustratedbible.com you will find you can become a gold bowl full of heavens oil. It is not by our might or our power that any good is done but by God the Holy Spirit. (Zech 4:6)