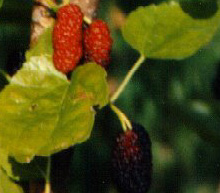 Luke 17:6 And the Lord said, If ye had faith as a grain of mustard seed, ye might say unto this sycamine tree, Be thou plucked up by the root, and be thou planted in the sea; and it should obey you.
Faith as small as a grain of mustard seed is very tiny. One of the tiniest seeds to plant is the mustard seed. It is the size of a little dot like this dot at the end of my sentence. If you have just that much faith, you could ask for a sycamore tree, which is a mulberry tree, to be pulled up by the roots and planted in the sea.
Now if you knew the mulberry likes to send its roots down deep, you would know it is hard to dig up a mulberry tree that has been growing for a long time. Black mulberries have been known to bear fruit for hundreds of years. An old mulberry tree can live longer than people and keep making fruits for hundreds of years.
Another thing about the mulberry tree is that it does not like to stand in water. It would be impossible to plant one in the sea and make it live and grow fruit. Mulberries like a warm, well-drained soil, preferably a deep loam. Shallow soils such as those frequently found on chalk or gravel are not recommended.
The point Jesus was making in Luke is that just a tiny bit of faith is all that you need. It is God's power that causes the need to be met. In Philippians 4:19 the Bible says God will supply all your needs.
So why not ask HIM today for what you need. If you obey Him and memorize HIS words till they are a part of you, your thoughts will be more like HIM. You will want what He wants. You will want to help those in need like He did. If you need money to help those in need, He will give it to you. If you need clothes, or equipment for this work, He will supply it. Just ask for even the most impossible things. He loves to do hard jobs.
In the John 15:7 the Bible says: If ye abide in me, and my words abide in you, ye shall ask what ye will, and it shall be done unto you.
15:8 Herein is my Father glorified, that ye bear much fruit; so shall ye be my disciples.
15:9 As the Father hath loved me, so have I loved you: continue ye in my love.
15:10 If ye keep my commandments, ye shall abide in my love; even as I have kept my Father's commandments, and abide in his love.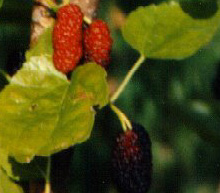 The mulberry makes an attractive tree which will bear fruit while still small and young. The trees are quite wind-resistant with some cultivars used as windbreaks in the Great Plains region. This makes me think about the sign God gave His people to watch for the wind moving the tops of the mulberry trees.
2 Samuel 5:22 And the Philistines came up yet again, and spread themselves in the valley of Rephaim.
5:23 And when David inquired of the LORD, he said, Thou shalt not go up; [but] fetch a compass behind them, and come upon them over against the mulberry trees.
5:24 And let it be, when thou hearest the sound of a going in the tops of the mulberry trees, that then thou shalt bestir thyself: for then shall the LORD go out before thee, to smite the host of the Philistines.
The point of what Jesus was saying was that you would not expect to be able to move a mulberry tree into the sea. Yet faith like the tiny mustard seed could even move a tree by the roots into the sea. Maybe there is something impossible in your life that you need done. Maybe you want to go do mission work but the cost is 20,000 dollars to go to another country with your supplies. Maybe you want to build a TV studio to broadcast the lessons about Jesus but it costs 40 thousand dollars and you only have 5 dollars and no income. If you are impressed to do some work pray and ask God to provide. Move ahead in faith if you are sure it is what HE wants. He wants to involve many in HIS projects so allow God to let others help in providing funds. Faith is moving ahead when things look impossible.
God has a million ways to make HIS projects happen. After looking at the fun facts about mulberries, Look at the story "Rocks Cry Out" under "Answered Prayer stories" on our other web site www.larom.org
Fun facts about mulberries
Fruit. Mulberry fruit changes the color from green to black purple through red with maturity. Some varieties introduced from mid Asia have white fruit. On average, the sugar content is about 12 %, but in some varieties it is more than 20 %. Mulberry fruit is consumed fresh, made into jam or liquor (mulberry wine). Very recently, it was found that mulberry fruit has an anti-oxidative property.