God's Donkey
"When they drew nigh unto Jerusalem…Jesus sent 2 disciples saying unto them, Go into the village over against you, and straightway ye shall find an 'ass' tied, and a colt with her: loose them, and bring them unto me." Matthew 21:1-2

We had a challenge to get God's supplies into the island of Mindoro over a ferry and on to the little villages we were to serve. God had his "Donkey transport" all ready for us.

"Donkey 1: Translator's own van, earlier twice overheated, the engine not expected to make the 3 hours drive. Yet it's driven far to Batangas pier with a heavy load of 3,000 pounds of Bibles, lessons, Steps to Christ, Sanctuary props, medical supplies. During transport, it seemed God was healing the engine and even carrying it thru as if we had a lighter load. The healed van "donkey" traveled round trip of 5 hours. Arnold sighed in relief as he reached home.

Donkey 2: At the pier we waited after declining to use the pig delivery jeep, Dr. Rose prayed and looked for a rainbow. Bro. James and Arnold could not see what I saw. Later they learned how to see. Of all the many possible destinations, this jeep "donkey" was going home straight to 'Villa Pag-asa.'What a "coincidence"!

Donkey 3: The translator tells in his own words (grammar edited for clarity) "Your faith is contagious. As the furniture was finished, in the afternoon & freshly painted; I aimed to find in faith the 'donkey' God had prepared. The first jeep driver I approached in our public market was bound to Mindoro. Amazing! It was even going to Villa Pag-asa, of all the many towns of Mindoro!" Donkey 4: It's even harder to find jeep Manila-bound to bring back the furniture. Usually jeeps are filled with bananas going that direction. Yet, God had an 'donkey' again. One of our sisters had a friend who drives a closed aluminum van. It trucks merchandize goods to Mindoro then goes back empty to Manila. It was able to carry the sanctuary props. It was picked it up January 1,2006, just 2 weeks after our last meeting in Roxas. (Storm and flood delayed the trip).The Ark had 5 broken crowns, a broken ring pipe, the Table of Shewbread had 2 broken crowns. But no 'horn' was broken. It's God's symbol of power. It just needed minor repair, compared to the major accomplishment it did. I wish you have it as you go to Africa. ) Four times indeed God is 'driving' His work!

Could He have a flying donkey? We will ask Him and we will check airline cargo from Philippines to Africa. He said, "If you ask anything in my name, I will do it." John 16:23 If it will bring Him honor and glory and will win souls to do this. God is capable. He will also move someone to give cargo funds.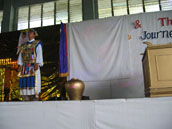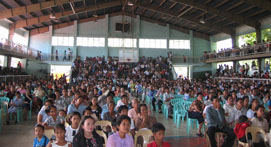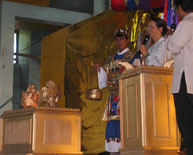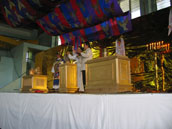 << Previous 1 2 3 4 5 6 7 8 9 10 11 12 13 14 15 16 17 18 19 20 21 22 23 24 25 26 27 28 29 30 31 32 33 34 35 36 37 38 39 40 41 42 43 44 45 46 47 48 49 50 51 52 53 54 55 56 57 58 59 60 61 62 63 64 65 66 67 68 69 70 71 72 73 74 75 76 77 78 79 80 81 82 Next >>