Baby's Pleading Stops Suicide
Baby's Pleading Stops Suicide
Mother Begins to climb God's Ladder
As a young teenage girl, I used to pick cherries and plums using ladders so much taller than I. I learned to move those ladders from place to place by what we called "walking" them. They were too heavy and often three times as tall as I. My mom and I learned to move them. I have fallen from ladders and received injuries which took months to heal. Now we are involved with a different LADDER.
In South America, Dr. Rose was told this story by Abigail herself. Her name has been changed to protect her identity. She gave permission for me to share it with you in hopes it will encourage someone else in how God can give hope when it seems there is nothing to live for. . She is one of so many who have come for prayer & hope during free medical clinics and after meetings. She waited till no one was around to hear what she had come to say. In nearly a whisper she poured out her heart sharing a terrible crisis in her life where she had arranged to end it all with a rope. She had climbed up to the ceiling and arranged everything. One more second and it would all be over.
Our work is move around the world with the "LADDER" and putting it where people can begin climbing. But this climbing is for life everlasting. It is not the counterfeit encouraged on by Satanic forces. It is the Ladder of life. In our program, "Follow the Lamb Seminar," the sanctuary model is set up and as the plan of salvation is described, each session is accompanied with testimonies of how God made that step of salvation real to me. Answers to prayer are shared, miracles are shown in pictures and lives are changed as hope rises in the hearts of listeners that God cares for each one of us.
By our sharing of our experiences with Jesus, people gain hope and a desire to climb. In 2 Peter 1:4-8 Peter tells us there is a ladder in our path to heaven. We all must climb the ladder which is an experience with Jesus. It is more than a one day climb. It happens every day of our lives.
Since Jesus was in human form living on this earth, He has experienced the difficulties we face daily. Since He created everything and is God, He also knows what is expected of those who live in heaven. So He is this ladder. We must cling to Him for each step. He is the ONLY ladder to heaven. The steps we are to take lead to heaven. Many stay on that first step and never enjoy the heights that lead on into heaven. If we climb, we can enjoy the high places of the earth promised in Isaiah 58:14.
The first step is faith. Without faith, it is impossible to please Him. (Hebrews 11:6) We must believe that He is and that He rewards those who seek Him. Then we are to have virtue, which is a clean life. David in Psalms pleaded for God to create a clean heart in him. (Ps. 51:10-12) When I have temptations, I sing these verses of Psalms 51 till the desire for that sin goes away. In Psalms 119:9 David says how a young man can cleanse his ways? Then he answers the question, " by taking heed" to God's WORD and with the whole heart seeking Him and His commandments. He said, "Thy word have I hid in my heart that I might not sin against thee." Peter says, the clean heart prepares one for the next step on the ladder. That is, accepting the knowledge of God and heavenly things. That is why John the Baptist said to repent and be baptized. The things of God are foolishness to the heart unless these steps have happened first.
After knowledge, the person can realize that they, themselves, are valuable and must keep the body in good health so temperance is added on the next step of the ladder. We don't have to have all faith possible before we advance up the ladder. We can be adding more each day. For faith "comes by hearing, and hearing by the word of God." During the steps of brotherly kindness and charity more faith is obtained for there are experiences of fellowship with Jesus that are so precious, it cannot help but increase your faith.
Each night we discuss the 4th step of the ladder and share ways to keep the body in great health. With this improved health, the 5th step of patience is possible. If one is eating irritants like hot pepper sauce, vinegar, and coffee, they will not be able to have the same patience as God has. With drug and alcohol drinking there will be wild expressions of violent temper which often result in disfigurement and death.
After one is more temperate, the godliness, kindness and charity can be exhibited in their lives.
While carrying this "ladder" about and inviting people to climb, we visited with Abigail. She had tears in her eyes as she told her story. She had been trying to climb the wrong ladder. Her life was empty.

There was no hope in her heart. Every day she faced more abuse. Her husband never helped with any of the tasks in raising the children. He did not provide funds but only ate from what she provided. None of her family lived near by to provide love and joy, except for his family. They all felt that she was worth nothing for he told them she was the scum of the earth. The alcohol confused and clouded his mind blinding him from seeing the precious blessing his wife was to him. He had no gratitude for the clean home, clean clothes and food on the nicely arranged table. He was in a continual rage. The children would hide when he came home. No one wanted to be near him.

He came home drunk and beat her with words and physically. She tried to keep the home nice and clean. She worked hard to provide food, clothing, and water for the little ones. She was so exhausted at the end of each day. Her heart wondered if there was anything she could do to make life full of joy. She chose not to leave him. She remembered her vow at marriage to love and honor him for better or for worse till death.

As she tucked her little ones into bed, she began to make a plan. It seemed better to end her life than to keep on. It seemed the only way out of her pain. In the depths of her despair, she did have concern for the youngest little one who had just begun to walk but who was still nursing. She decided to make sure he was asleep so none of them could see what she planned to do to herself. She had the rope all tied securely to the rafters. She would get up on the chair about one AM and end all of her worries.

Finally the moment came she was waiting for. All were asleep. She got up on the chair and had the rope around herself. Suddenly the baby jumped up from where he was sleeping and came running and grabbed her skirt and pleaded to be nursed. He could not talk but he knew how to make his needs known. The only thing in the world that meant anything to her was tugging hard at her heart. She was a good mother. She did her best to provide for her children. Did an angel wake up the baby? She fed him and put him back to bed as he fell asleep in her arms. She planned for another time. Again, at the moment of crisis, the little boy jumped up from his sleeping and came begging for another meal.

She gave up her plans and decided God must be doing this to save her life. Later because of her prayers and kindness to her husband, he stopped drinking. Gradually the old habits have been replaced by a desire to be like Jesus. During our meetings, he decided to keep the Sabbath. Abigail together with her husband now desire to reach to their neighbors with the sweet truth. They want to help all who will listen to begin climbing the ladder.
Pray for them that they will not become discouraged with the challenges the enemy throws in her path while she tries to follow the Lamb and climb the Ladder to heaven.
Sincerely,
Your fellow co-worker climbing and moving with the LADDER,

Dr. Rose
THE LADDER TEXT: 2 Peter 1:5 And beside this, giving all diligence, add to your faith virtue; and to virtue knowledge;
1:6 And to knowledge temperance; and to temperance patience; and to patience godliness;
1:7 And to godliness brotherly kindness; and to brotherly kindness charity.
1:8 For if these things be in you, and abound, they make [you that ye shall] neither [be] barren nor unfruitful in the knowledge of our Lord Jesus Christ.
1:9 But he that lacketh these things is blind, and cannot see afar off, and hath forgotten that he was purged from his old sins.
1:10 Wherefore the rather, brethren, give diligence to make your calling and election sure: for if ye do these things, ye shall never fall:
1:11 For so an entrance shall be ministered unto you abundantly into the everlasting kingdom of our Lord and Saviour Jesus Christ.
1 Corinthians 2:12 Now we have received, not the spirit of the world, but the spirit which is of God; that we might know the things that are freely given to us of God.
2:13 Which things also we speak, not in the words which man's wisdom teacheth, but which the Holy Ghost teacheth; comparing spiritual things with spiritual.
2:14 But the natural man receiveth not the things of the Spirit of God: for they are foolishness unto him: neither can he know [them], because they are spiritually discerned.
2:15 But he that is spiritual judgeth all things, yet he himself is judged of no man.
2:16 For who hath known the mind of the Lord, that he may instruct him? But we have the mind of Christ.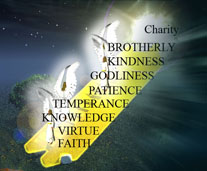 << Previous 1 2 3 4 5 6 7 8 9 10 11 12 13 14 15 16 17 18 19 20 21 22 23 24 25 26 27 28 29 30 31 32 33 34 35 36 37 38 39 40 41 42 43 44 45 46 47 48 49 50 51 52 53 54 55 56 57 58 59 60 61 62 63 64 65 66 67 68 69 70 71 72 73 74 75 76 77 78 79 80 81 82 Next >>